These PreciseFlex™ robots are available in either four-axis or three-axis configurations. The four-axis configuration (PreciseFlex™ 400) has a servo gripper for handling plates stored in stacks, while the three-axis configuration (PreciseFlex™ 300) has a servo tube gripper for handling cylindrical samples from a sample rack.

The PreciseFlex™ 400/300 are autosamplers developed specifically for benchtop applications where price, ease-of-use, space requirements, and safety are critical.
The PreciseFlex™ 400/300 line has been adopted by nearly every major life science/laboratory automation company as their robot of choice, with integration into a host of life science OEM products.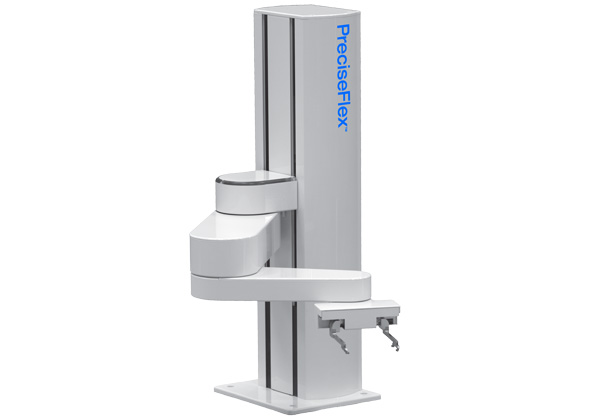 For both configurations, the robot can be set up using either an easy-to-use web-based interface or an optional advanced programming environment.
Key Benefits:
Space-saving design services many stations in a small work cell.
Provides collision/drop detection as well as squeeze force control.
Also available with a linear rail to service multiple stations.
Servo grippers allow robot to pick up a wide variety of sample sizes.
Embedded Guidance Motion Controller offers unique free mode teaching aids.
Auto-centering aid reduces failures due to sample variations.
Automatic sample Z-height detection.